Contacts
Moirano Felice and Giacomo
Via Somis 120
10019 Strambino (TO)
Italy

Contact us
Working procedures
Traditional hand-made leather harnesses
Leather has been used since ancient times to make horse harnesses and it can be of different colors and thickness. The Moiranos use leather of various tanneries and they import black and London colored leather from the United Kingdom to cover the collars, while other types of leather - mostly Italian of superior quality - for the other parts of the harness. The leather ordered is always natural and it is wrapped in order to maintain its softness unaltered.
Felice takes care of cutting the leather using patterns he himself has created and of which he precisely remembers all the measurements. Vintage knives made by Blanchard, Paris are used to cut, while presses are used to make loops of different sizes and types.
Once cut, all the parts of the harness are assembled with straps, loops and buckles.
Gallery
Mechanical work
Giacomo is in charge of the hardware. He spends a lot of time personally eliminating any imperfection from the metal parts by using sanding machinery and abrasive tapes to finish the buckles and hames so to guarantee the perfection and uniqueness of each piece.
Gallery
Stitching
A very important phase in making a harness is the stitching done by hand or by using an Adler machine.
There are countless hand stitches of waxed Irish linen thread of different colours. All the thread is waxed, as in the past, to prevent any alterations in time.
At times leather harnesses made by Moirano more than 40 years ago are taken to the workshop for a revision, but the stitches are practically perfect.
Several international judges have expressed flattering opinions of the quality of the sewn parts.
Gallery
Preparing an harness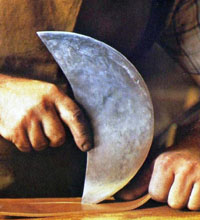 Luxury hand-made harnesses are based on antique drawings and prints. At times a precise copy of an original period harness is required by the owner.
The most representative is the copy of a six-in-hand which belonged to Ferdinand VII, King of Spain. The preparation of this harness took more than six months as the buckles were made of sterling silver in Rococò style and the countless stitches were hand sewn like the original.
All other categories of hand-made harnesses are based on models and drawings that have been appreciated throughout the years. Firstly, all the components are cut out in leather, then they are scraped with glass. Afterwards two pieces of leather are joined which, once sewn, become convex. All the components are smoothed by using wooden tools or bookbinder rods. Next they are coloured and coated with lacquer.
At this point all the parts are put together with the loops and buckles.
After a further finishing the holes are made for the tongues of the buckles which can be of various forms and sizes. At last all the elements are varnished according to the colour of the harness, then they are assembled and the harness is ready.
Gallery
Buckles
Buckles are made of brass, nickel silver, silver and gold (for the more demanding customers).
Brass is a soft metal, easy to work and use with other materials.
Polished brass needs constant maintenance, but this can be avoided by using brass buckles plated with nickel, chrome, silver or gold according to personal preferences.
Nickel silver is also a soft metal which can be polished like brass, or kept opaque to get an antique effect. It can also be plated with nickel, chrome, silver or gold.
The hames can be plated with a layer of brass after an antique method used only by the Moirano saddlery.
Categories of buckles
One of the reasons why the Moirano leather harnesses are so successful is the great number of styles of buckles; infact the Moirano saddlery uses thirty categories of buckles each including 15 elements:
round buckles, simple or double
flat buckles, simple or double
embossed flat buckles
oval buckles, average or big, double or smooth
oval buckles, average or big, double in relief
spiral buckles, average or big, simple
spiral buckles, average or big, double
neo classical buckles, average or big, double
Rococò style buckles big and double
Plume carriers and stands are available too.
More than 600 models are available for lost wax fusion of cockades, brow bands, armorial bearings, monograms (all these models have been catalogued during the 80 years of work of the Moirano saddlery). The work of the Moirano saddlery is dedicated not only to the enthusiasts of a refined past, but also to those who wish to create a new style.
Gallery